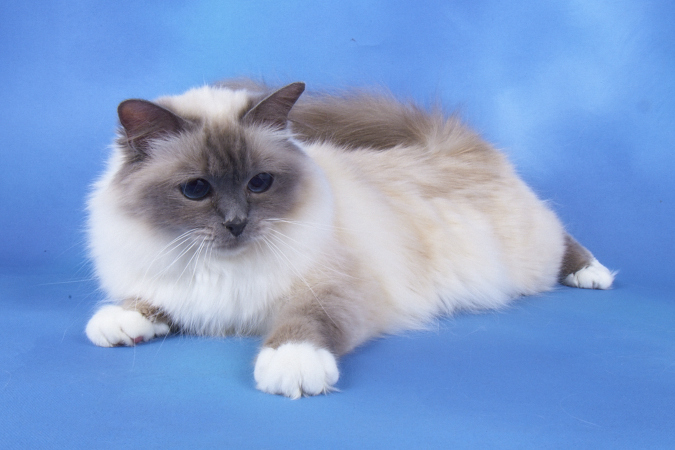 UK & Imperial Grand Champion and Imperial Grand Premier Kittah Thalia
Rainbow Bridge
Dam: Khatijem Loveinamist
Colour: Blue Point (SBI a)
July 2005 - November 2017
Thalia was the first of our kittens that we kept for show and breed purposes, and the Kittah lines really started off with her.
We soon realised that we had a star on her hands when she won the first of her many big awards, best in show semi-long hair kitten, at the Shropshire show back in 2006.
Sas had a really successful show career and was very much our calendar girl, appearing on a regular basis in both the Birman Cat Club and Seal and Blue Cat club calendars as well as the front cover of club magazines.
Over the years she produced many fabulous kittens and was a wonderful mum. Her kittens inherited her really deep blue eye colour, which is extremely desirable but quite hard to achieve in Birmans.
When she wasn't showing she spent most of her time fast asleep on our bed, and we both absolutely adored her.
With the advent of the Olympian titles introduced by the GCCF we decided to give her the chance to compete at the highest level, even though it is notoriously difficult for Birmans to compete against other breeds (due to the exacting criteria against which Birmans are assessed).
She did really well and gained four of the five qualifying awards before we decided to get her neutered. Had she achieved that fifth award she would have been the first entire Birman to have an Olympian title. Instead, that honour went to our gorgeous Tess.
On Sunday 12th November 2017 our beloved Thalia passed away after a short and unsuccessful battle with severe kidney problems
Thalia was the first of our breed queens to carry our prefix, and really was the foundation of the Kittah lines. We were so proud of her fantastic show achievements.
We are fortunate to have Kittah Nemesis, who is Thalia's granddaughter and has inherited Thalia's good looks, as well as being the most affectionate of cats.