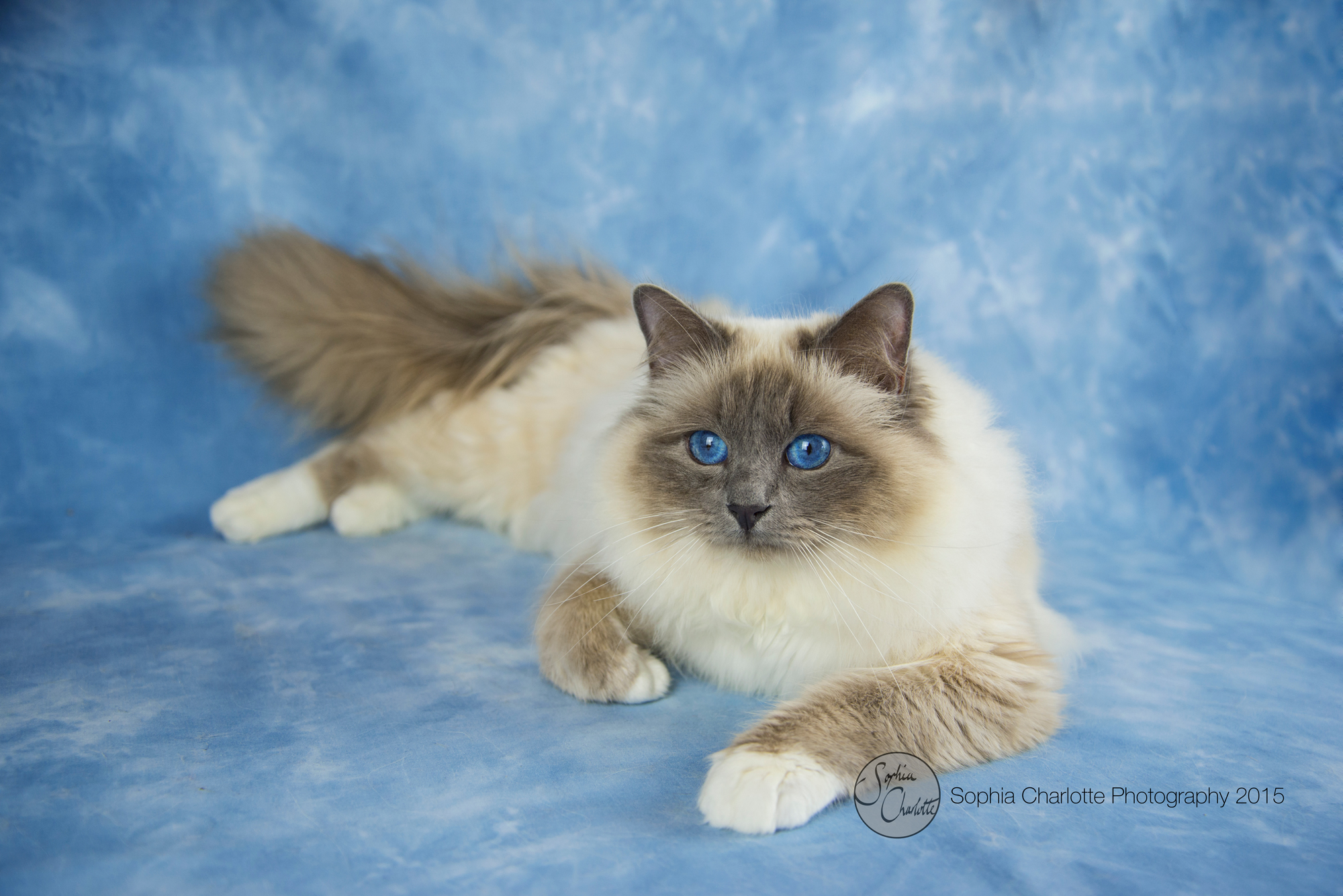 Grand Champion Kittah Kedalion
Retired
Colour: Blue Point (SBI a)
Date of Birth: June 2014
It was apparent from an early age that the repeat mating of Tess and Mister Darcy had produced another stunning litter.
However the blue male kitten, "Angus", definitely stood out from the rest. Not only was he the biggest kitten, with a chunky build, his type was fantastic and he had inherited his mother's really dark blue eye colour.
We had always planned to have our own stud cat at some stage, but not until we had moved to our new home in Wales. But even though the timing wasn't ideal, we knew that he was just too good to let go, and hoped that if we were lucky we might be able to keep him in the house for 12 to 18 months until we'd moved and got his stud quarters built.
At his first show, he proved we were right to keep him and ended up being Best in Show kitten. In fact, he did really well at every show he went to as a kitten.
At 10 months old we put him into his first adult show where he surprised us by beating some much older and highly titled studs, becoming Best in Show adult male.
On the down side he decided he didn't like the smell of the of the other cats and sprayed all over the Show drapes, so we quickly had to source a temporary cat house for him.
Angus enjoyed further show successes, and ultimately achieved the title of Grand Champion. However, he didn't really enjoy being too close to other stud cats at shows, so we decided to retire him from showing.
He now enjoys life in his luxury, spacious, heated stud quarters, which overlook the garden.
In the summer we let him sit on the bench in the sunshine and most evenings Nick can be seen carrying him round the garden talking to him, as both Angus and Nick still love their cuddles.
From time to time Angus gets to enjoy the company of one of our girls, and has already sired his first litter of five kittens, all of which seem to carry his fabulous eye colour.
7th June 2014 - Angus is born