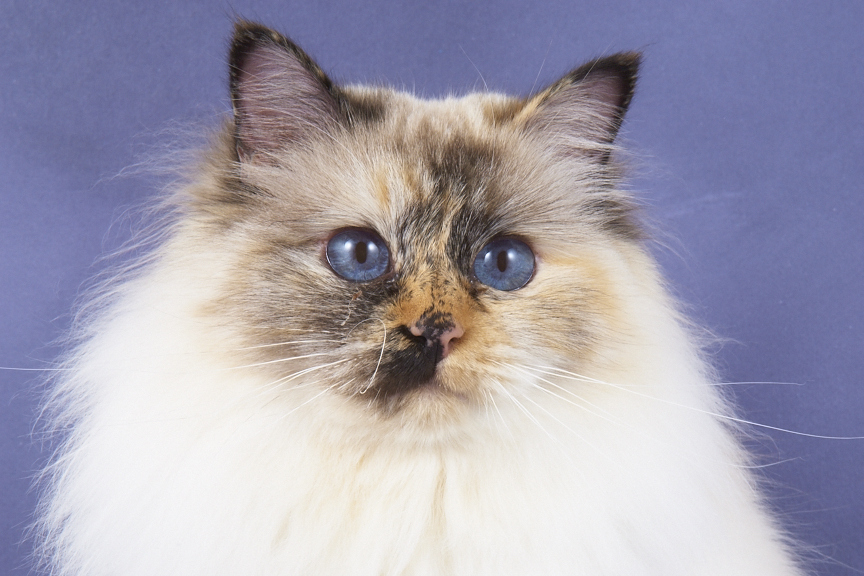 UK and Olympic Bronze Imperial Grand Champion Kittah Artemis
Active Queen
Sire: Norvin Laliquepapillon
Colour: Seal Tortie Point (SBI f)
Date of Birth: August 2008
Tess is now the oldest of our entire girls and is very much the Diva of the Kittah household. She loves to be centre of attention wherever we are and whatever we're doing. If we're sat at the table she's either on the table itself, or sitting on one of the chairs. If we're relaxing in a comfy chair she'll get as close to us as she possibly can. And if she feels we aren't being attentive enough then she'll give us a little nip just to remind us she's there!
Tess has a wonderful, loving temperament. Most cats are notoriously difficult to give medicine to, however, with Tess, all we have to do us to put a tablet in our hand in front of her and she will come and eat it.
She's big boned and large for a Birman. She has relatively little seal in her coat, and where it does appear it contrasts superbly with the red. She has fabulously dark blue eyes and her white feet and gauntlets are near perfect.
As a young kitten she didn't give us many clues as to what she was going to become and was fairly quiet and reserved. At the time we had three litters of kittens in the house, and one by one they got reserved until only Tess was left. As a favour to one of the buyers, who wanted an independent view on the show qualities of the kitten they were buying, we asked a well respected Birman judge to come and have a look. After checking them all out she commented that we had one outstanding kitten: the quiet tortie sat in the corner, Tess. When we looked at her with fresh eyes we realised she was right, and, having become really attached to her, we decided to keep her to show.
Show-wise, she took a while to come into her own and we had a long wait for all of her Seal markings to come through. However, as an adult she has excelled, winning numerous awards and gaining many Best of Variety and Best in Shows.
She is also the first ever entire Birman in the country (and to date the only Birman) to have gained an Olympian title.
We are so very proud of her.
2009 - Best in Show Adult, awarded at The Southern and South Western Birman Cat Club Show
2010 - Best in Show Female Adult, awarded at The Birman Cat Club Show
2012 - Best of Variety Semi Longhair Adult, awarded at The Suffolk and Norfolk Cat Club Show
2012 - Best of variety Semi Longhair Exhibit, awarded at The London Cat Club Show
2012 - Best of Variety Semi Longhair, awarded at East Sussex Cat Club Show
2012 - Best of Variety Semi Longhair Adult, awarded at Bucks, Oxon & Berks Cat Society Show
2012 - Best of Variety Semi Longhair Adult, awarded at The Seal and Blue Point Birman Cat Club Show
2012 - Overall Best in Show, awarded at The Birman Cat Club Show
2012 - Overall Top Birman, awarded at The Birman Cat Club Show
2012 - Overall Top Birman, awarded at The Northern Birman Cat Club Show
2015 - Best in Show Semi Longhair, awarded at The Eastern Counties Cat Society Show
2015 - Overall Best In Show, awarded at The Southern and South Western Birman Cat Club Show
2015 - Best in Show Semi Longhair, awarded at The Bristol and District Cat Club Show
2016 - Best in Show Female Adult, awarded at The Southern and South Western Birman Cat Club Show
2016 - Best of Variety Semi Longhair Adult, awarded at Wiltshire and District Cat Club Show
2016 - Overall Best in Show Any Other Colour, awarded at The Seal and Blue Point Birman Cat Club Show
2016 - Best in Show Female Adult, awarded at The Birman Cat Club Show